Sugarcane Collins – Biography
All the way from Cape York in the hot and humid tropical far north of Queensland, where the rainforest meets the reef and where there are only two seasons, wet and dry, comes Sugarcane Collins. With fire and skill and passion and commitment, Sugarcane plays guitar and sings with the deep heart of a bluesman. He had been first drawn to the Irish based traditional folk music of colonial Australia, but the blues, when he found it, was stronger and darker and ultimately, held more fascination. His early years were divided between life in the city and life in the bush at 'The Oaks', a dairy farm at Berry's Creek, a dot on the map between Leongatha and Mirboo North in South East Gippsland.
"It was a great life for a boy – milking cows, fattening up pigs, growing potatoes, trapping rabbits and catching fish in the river ".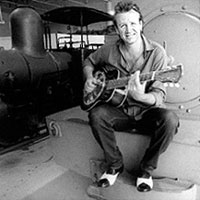 Like so many other jazz and bluesmen before him, he started singing in a church choir, but when his father gave him his first guitar at the age of seven and Collins instinctively started sliding his pocket knife up and down the strings,his future life as a travelling bluesman was all but sealed.
He hit the road at eighteen and found himself way up north in Cairns, Queensland in the late 70's at the peak of the Barbary Coast days, where in the wild stretch of waterfront pubs, boozing and brawling were given equal opportunity. The entertainment either learnt how to fight or play well enough to please the fishermen, canecutters, miners, bikers and all manner of desperado who drifted around the north when Cairns was a sugarcane town
and the end of the road on the east coast of Australia.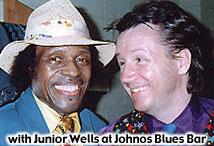 "When l had thirty songs together l went and found myself a gig. I debuted solo at the roughest pub in town, the Oceanic Hotel ".
Collins, learning from older experienced songsters like Geoff Munton, Donny Andrews and Chuck Hutchin, survived this baptism of fire and was soon in demand for the raw soulful interpretations of the old southern country bluesmen he so reveres.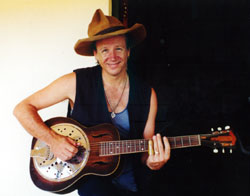 Cairns in the 70's & 80's had a thriving live music scene and he put together the Lake Street Sheiks and many other small groups with harmonica master Steve Gilbert and 5 string banjo wizard Jules Williamson,
"We did lots of jug band stuff in the Sheiks and l used to play mandolin and kazoo",
but it was in the Barron River Drifters, a six piece Cowboy/Jazz band, that he tasted his first major success. Appearing all over the far north and in constant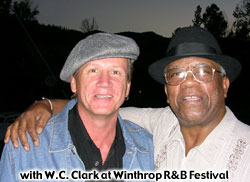 demand from 1987 / 1992, the band was legendary for it's unique sound, outstanding musicianship and high powered performances.
"The Barron River Drifters was a defining time in my career. It was back in 1987 and l managed to secure a wednesday night residency at the Crown Hotel in Cairns. Right from day one that band just took off. It started out as a four piece and ended up a six piece and l went from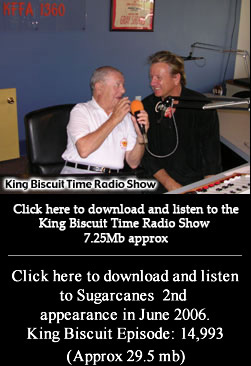 doing a couple of gigs a week to anything up to six or seven a week every week for about five years. It was like l did my apprenticeship in the music business with this band".
The band was also a big hit in Tamworth, Australia's Country music capital. They achieved 'must see' status at their many performances at The Longyard, The Tudor and the West Tamworth Leagues Club during the country music festivals of 1989 / 1992.
The highlights of those years were:
being proclaimed by esteemed music critic Mort Fist in the Northern Daily Leader post festival wrap of 1990 as "the best country band in Australia".
being described by Susan Jarvis in the Sydney Sun-Herald Feb 4th 1990 as a band who "stood out this year as being at the forefront of Australia's
country music future".
being included in David Latta's book of "Australian Country Music" in 1991.
But the wanderlust kicked in again and leaving the band behind Collins hit the road in 1992 and went to Europe where he started performing solo under the name of Black Cat Tail.
"I was in England, Hove actually, for six months and gigged in many pubs along the sussex coast and then on to Ireland, France, Spain, Portugal and Morocco. My biggest buzz on the continent was a regular gig in a café right next to the bullring in Puerto Banus".
He also started working on his songwriting, for just like the early country bluesmen, Sugarcane is an exceptional storyteller. Soon enough his carefully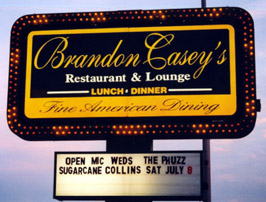 crafted compositions came to be filled with a deep emotional content. Returning to Australia, Collins collaborates with the experienced and innovative producer James Mann and records his impressive debut album of original material Barron Delta Blue.
"The release of my solo debut in 1999 was the next quantum leap. It was two years in the making and it's amazing success established me as a recording artist and concert performer".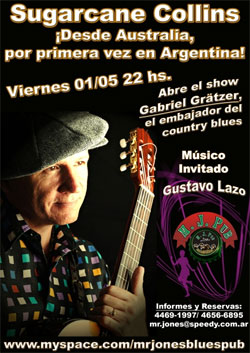 The album spawns the catchy hit song 'Pascoe River', gets two tracks on EMI compilation albums, receives tremendous radio airplay in Australia and around the world and is honoured with a Song of the Year and two Queensland Album of the Year awards. Described by Mike Daly of Melbourne's The Age, one of Australia's largest daily newspapers, as "one of 1999's best Australian releases" Barron Delta Blue chronicles his life in the wild far north. A shift down south in 2000 sees Sugarcane appearing regularly on ABC Radio Brisbane, gigging in Fortitude Valley and teaming up with brilliant harmonica player Andy "Cutlips" Vogel to form a powerful duo. Returning to Cairns and with James Mann once again in the producer's chair, Collins follows the phenomenal success of his first CD with the 2003 release of the outstanding Lake Street Serenade.
"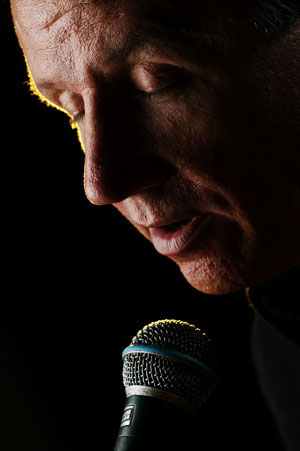 l love the whole process of making an album. You always come away a better musician when you put yourself and your music under the microscope of the microphone".
At the Queensland Recording Association " Sunnie " Awards, the highest honours given for recording and songwriting in Queensland at that time, songs on Lake Street Serenade receive a record twelve nominations, win three "Sunnie" awards, and Collins is acknowledged as a major talent when he's crowned the 2004 Queensland Songwriter of the Year.
Whilst appearing at many of Australia's major music festivals including the Thredbo 'Legends of Blues' Festival, 'Blues Tent' Gympie Muster, Port Fairy Folk Festival, Blues at Bridgetown, Blues on Broadbeach, Byron Bay Bluesfest, Blue Mountains Blues & Roots Festival and the National Folk Festival in Canberra, Sugarcane has always had his sights set on international success and in the summer of 2005 made his first
solo tour of the USA (more details here).
Sharing the stage with Coco Montoya and WC Clark at the Winthrop Rhythm & Blues Festival
"I'll always be grateful to Alice Stuart for recommending me to Winthrop and to Cholo Lehmkuhl for giving me my first break in the States ",
jamming with the legendary piano player Pinetop Perkins in Illinois, appearing on the King Biscuit Time Show (the longest running blues radio programme in the world) with "Sunshine" Sonny Payne on Radio KFFA in Helena Arkansas and singing in the streets of Clarksdale Mississippi during the Sunflower River Blues & Gospel Festival, Sugarcane couldn't believe his luck and the incredible welcome he received. An exciting new talent on the international blues scene has arrived. His powerful emotive voice, superb original compositions and hard driving acoustic guitar are winning over new fans wherever he goes.
"American audiences really responded to the power and passion of my voice, the variety and dexterity of my guitar styles and the honesty and intensity of my stage performance".
Sugarcane Collins now rides the blues train all over the world for all he is worth and has completed successful tours of the USA in 2005/ 2006/ 2008/ 2010/ 2012. From juke joints in Mississippi to smoky bars in Buenos Aires (where in 2009 he made history as the first Australian bluesman to perform in Argentina) to countless gigs around Australia, Sugarcane performs his potent no frills blues with an emotional intensity and raw abandon that only the very best solo bluesmen achieve.
Not only has he developed a powerful original voice that harks back to the folk origins of the blues, he also puts his own unique stamp on reworkings of the old classics.
Sugarcane's 2006 interview with James Walker for Blueswax.com
Says Al Hensley, blues writer for RHYTHMS MAGAZINE  "Collins embodies the spirit of the original American bluesmen as if he was born there".