Going Back to Clarksdale
Sugarcane's brand new album Going back to Clarksdale was recorded between 2012 and 2014 in New Orleans and Clarksdale Mississippi employing local musicians from these two great bastions of the Blues, with the finishing touches added in his home town of Cairns, Queensland, Australia.
It's a fascinating set of songs produced and arranged by the man himself that moves from the sizzle of big brassy swing and smoky Jazz/Blues N'awlins style, up to the more raw, stripped back acoustic guitar/harmonica and small band sounds of the Delta. Collins harks back to the days when the blues was a music of unique individuality and direct personal experience and when he sings "from New Orleans up to Clarksdale that's a ten hour Greyhound ride.." of the title track Going back to Clarksdale, you know damn well this tough and talented troubadour has travelled every inch of the way!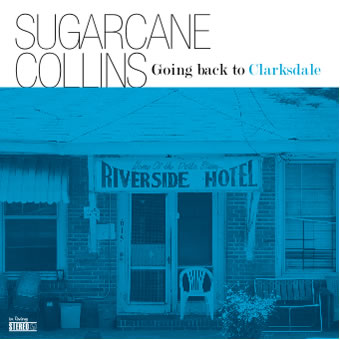 "If Sugarcane Collins' 2006 CD Way Down The River and it's 2013 successor Downunder The Blues galvanised his reputation as a real deal blues performer whose music embodies the spirit of the great Delta bluesmen, then this release is a crowning achievement. It salutes a range of urban and country blues styles from the US south paying a heartfelt tribute to some of the original blues masters. From a novel horn driven arrangement of Big Joe Turners "Flip Flop Fly" to a jazz inflected reading of Leroy Carr's "Memphis Town", Collins' channels the essence of blues icons Mississippi John Hurt, Son House, Blind Willie McTell and the Mississippi Sheiks. While "Blind Willie" pays homage to the legendary Atlanta, Georgia ragtime blues virtuoso, "Hungry Broke And Blue" evokes images of the dusty roads and cottonfields and the title track "Going Back To Clarksdale" elicits a smoky juke joint vibe, it's Collins' version of "St James Infirmiry Blues" that is the CD's centrepiece. From an intro played in an ad lib fashion, the song progresses into a swinging Dixieland soaked section reminiscent of a late night Big Easy club, finally segueing into a New Orleans second-line marching band. Dedicated blues fans will enjoy this first rate journey through the music's heartland."
Al Hensley – Rhythms Magazine
"The year 2015 marked this singer/songwriter/guitarist's 35th year in the music business, his 60th birthday and the release of his fifth album. There are welcome surprises like Mississippi John Hurt's lilting 'Creole Belle', Leroy Carr's exultant 'Memphis Town' and Blind Willie McTell's ragtime bounce 'Baby It Must Be Love'. His tale of 'Blind Willie'(McTell) is more old timey and folk than blues and 'Hungry,Broke and Blue' is a timeless lament of hard times evocative of Hank Williams and Woody Guthrie. Collins performs on acoustic guitar throughout; his picking is nimble and intricate. The mellow eclecticism of GOING BACK TO CLARKSDALE will appeal to fans of pre WW II blues and music Americana."
Thomas J. Cullen III, Blues Music Magazine, USA
"What do Australia, South Louisiana and the Mississippi Delta have in common? If you said "Sugarcane" you'd be correct! As a vocalist Sugarcane Collins favours the jazzy stuff, playing up the carnal frustration inherent in "Trouble in Mind", the blessed release of Blind Willie McTell's "Baby it must be Love" and he even restores the original, explanatory opening verse to "St. James Infirmiry". As a guitar picker he channels Delta legends Son House & Charley Patton. He expertly captures the essence of McTell in "Blind Willie" and channels all the spirits at once with an accordion fuelled take on Mississippi John Hurt's "Creole Belle". Sugarcane Collins is an authentic representative of the Blues."
Robert Fontenot – offBEAT, New Orleans, USA
"Collins writes and sings just like he's a lifelong resident of the southern part of the US. He "get's" this music more so than many native to the region. Going Back To Clarksdale is a first-rate and imaginative set that will please blues and roots fans. "
Graham Clarke – Blues Bytes, USA
"Going Back To Clarksdale ranges from gutbucket blues to New Orleans jazz; It's a love letter to the Mississippi Delta that features the work of Son House, Mississippi John Hurt, Leroy Carr. I consider Sugarcane Collins to be one of the most entertaining bluesmen touring today."
Eric Steiner – Washington Blues Society, USA
"Really like it my friend. Keep up the great work!"
Stagga' Lee Henzel – WRFG 89.3 FM Atlanta, Georgia, USA
"Listening to Australian Sugarcane Collins' brand new album it's obvious that this "wonder from downunder" get's it. He speaks the old language of the blues. Collins is inventive enough to enrich everything he touches with new angles and fresh ideas and has fleshed out a tasty set of timeless tunes. If there was an award category for most uniquely recorded CD, Going Back To Clarksdale, with it's international mixtures and locations, would be the blue ribbon winner. Here, from Australia, is a fresh new approach and sound that is noteworthy, outstanding and first rate on the entertainment meter. "
Rainy Wetnight, BLUES BLAST, USA
Click on the song titles to listen to the mp3 sample
1. Flip Flop Fly
Calhoun/Turner
Sugarcane…………………………………….Vocals, Acoustic Guitar
Aaron Fletcher………………………………..Saxophone
Glenn Hall 3rd………………………………..Trumpet
Terrance Taplin……………………………….Trombone
Kindler'Mac'Carter……………………………Drums
Cornell Williams………………………………Bass
Bill Malchow……………………………………Piano & Hammond Organ
Recorded at Oak Street Studio, New Orleans
2. Trouble in Mind
Richard M. Jones
Sugarcane……………………………………..Vocals, Acoustic Guitar
Ruedi Homeberger……………………………Saxophone
Paul Green……………………………………..Electric Guitar
Will Kepa………………………………………..Bass & Drums
Recorded at Pegasus Studio, Cairns
3. Creole Belle
Mississippi John Hurt
Sugarcane……………………………………..Vocals, Acoustic Guitar
Kirk Steel……………………………………….Accordian
Recorded at Pegasus Studio, Cairns
4. St James Infirmary Blues
Traditional arr A.Collins
Sugarcane…………………………………….Vocals, Acoustic Guitar
Aaron Fletcher………………………………..Saxophone
Glenn Hall 3rd………………………………..Trumpet
Terrance Taplin……………………………….Trombone
Kindler'Mac'Carter……………………………Drums
Cornell Williams………………………………Bass
Bill Malchow……………………………………Piano & Hammond Organ
Ruedi Homberger…………………………….Saxophones, Clarinet
Ben Hakalitz…………………………………..Percussion
Recorded at Oak Street Studio, New Orleans, Vincent Productions, Clarksdale Mississippi
& Pegasus Studio, Cairns

5. Going back to Clarksdale
A. Collins
Sugarcane…………………………………….Vocals, Acoustic Guitar
Stan Street……………………………………Harmonica
Lee Williams…………………………………..Drums
Paul Green…………………………………….Electric Guitar
Will Kepa……………………………………….Bass
Recorded at Vincent Productions, Clarksdale Mississippi & Pegasus Studio, Cairns
6. Sitting On Top Of The World
Mississippi Sheiks
Sugarcane…………………………………….Vocals, Acoustic Guitar
Stan Street……………………………………Harmonica
Recorded at Vincent Productions, Clarksdale Mississippi
7. Baby It Must Be Love
Blind Willie McTell
Sugarcane…………………………………….Vocals, Acoustic Guitar
Peter Ella………………………………………Mandolin
Ruedi Homberger…………………………….Clarinet
Recorded at Pegasus Studio, Cairns
8. Hungry, Broke & Blue
A. Collins
Sugarcane…………………………………….Vocals, Acoustic Guitar
Peter Ella………………………………………Mandolin
Giles Smith……………………………………Bull Fiddle
Nigel Prgrum………………………………….Matchbox
Recorded at Pegasus Studio, Cairns
9. Blind Willie
A. Collins
Sugarcane…………………………………….Vocals, Acoustic Guitar
Recorded at Pegasus Studio, Cairns
10. Walking Blues
Son House
Sugarcane…………………………………….Vocals, Acoustic Guitar
Stan Street……………………………………Harmonica
Lee Williams…………………………………..Drums
Peter Ella………………………………………Mandolin
Paul Green…………………………………….Electric Guitar
Will Kepa……………………………………….Bass
Recorded at Vincent Productions, Clarksdale Mississippi & Pegasus Studio, Cairns
11. Memphis Town
Leroy Carr
Sugarcane…………………………………….Vocals, Acoustic Guitar
Stan Street……………………………………Harmonica
Lee Williams…………………………………..Drums
Bill Malchow……………………………………Piano
Will Kepa……………………………………….Bass
Ruedi Homberger…………………………….Saxophones
Recorded at Vincent Productions, Clarksdale Mississippi, Oak Street Studio,
New Orleans & Pegasus Studio, Cairns
Produced and Arranged by Sugarcane Collins
Mixed by Jimmy Mann at Pegasus Studio, Cairns
Cairns sessions engineered by Nigel Pegrum
New Orleans sessions engineered by Lu Rojas
Clarksdale sessions engineered by Gary Vincent
Mastered by Michael Lynch, Shoehorse Sound
Cover Artwork by Steve Lane, MAK Advertising
Photo Back Cover by Brad Newton
All other photos by Sugarcane Collins
Dedicated to the memory of Frank "Rat" Ratliff
P&C A.Collins 2015. All Rights Reserved
In Australia you can also order this album at all good record stores through
ONLY BLUES MUSIC Distribution